Holy Trinity Primary School
'An outstanding school' Ofsted 2013
MIDDAY SUPERVISOR - VACANCY
7.5 hours per week - Monday to Friday from 12 Noon to 1.30 pm - 38 weeks of the year
Grade ME4 Pt 11-13 Approx. £3062 to 3176pa
We wish to appoint a Midday Supervisor to look after our children during the lunch period. Duties will include supervising children in the dining hall and the playground, ensuring their health and safety, interacting with them and encouraging play.
The ability to work as part of a team, patience and sensitivity are all key attributes for this position.
Application Form and Job Description can be downloaded by clicking on the link below or from eTeach. They are also available by email from sbm@holytrinity.merton.sch.uk or by telephoning the school office on 020 8542 1591
Holy Trinity is committed to safeguarding and promoting the welfare of children and young people and expects all staff to share this commitment. The successful applicant will be required to undertake an enhanced DBS Disclosure.
Closing date: Monday 10th October 2016 at 12 noon
Interview date: Tuesday 11th October 2016
If you would like to read the Governing Body annual report please click on the link below
Open Mornings for Prospective Reception and Nursery Parents to visit the school will take place between 9.15 am and 11.15 am on the following days:
For Reception 2017 Intake
Tuesday 18th October 2016
Friday 11th November 2016
For Nursery 2017 Intake
Tuesday 17th January 2017
Friday 3rd February 2017
Mrs Rickards will talk to parents at 9.30am and again at 10.30am. You do not need to book.
We are sorry but we are not able to offer visits at other times or dates.
Newsletter
If you would like to read our most recent newsletter for Friday 23rd September please click here
SCHOOL DINNERS
School dinners are now £1.90 per day and can be paid for using your ParentmailPMX account.
Latest Dates for the Diary Events
Year 6 Bikeability starts

03

Oct

2016

@ In School

Harvest Festival at Holy Trinity Church - all welcome to attend

04

Oct

2016

9:15 am - 10:15 am @ Holy Trinity Church

Year 3 to Wimbledon Bookfest

04

Oct

2016

9:30 am - 12:00 pm

Year 3 will be visiting Wimbledon Bookfest

Year 3 Swimming

05

Oct

2016

8:45 am - 9:45 am

Year 3 Swimming - meet at Latimer Road at 8.45 am

School Sunday Service at Holy Trinity Church with Priory School

09

Oct

2016

10:00 am - 11:00 am @ Holy Trinity Church
Lent Fundraising - Molly's Smile Fund
Earlier in the term Jane visited Holy Trinity with one of St George's Consultant Nurses, Deborah, to tell us how our Lent Appeal will help people who are being treated in intensive care. She showed us lots of the equipment and explained what it can feel like to be a patient in intensive care.
We are pleased to say that Jane and Deborah returned to Holy Trinity on Friday 8th July when we presented them with a cheque for £8000.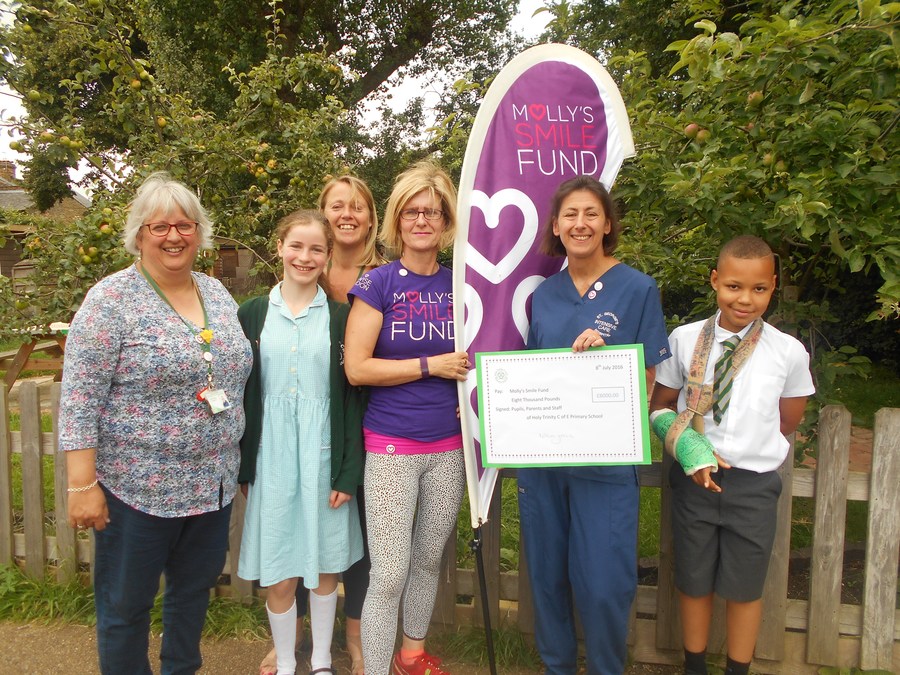 Mrs Morgan with Hattie, Mrs Channell, Jane, Deborah and Kayden.
See below for HOTS most recent newsletter.
Writing Workshop
Thank you to the many parents who attended our Writing Workshop, it was wonderful to share with you how we teach writing in school and we hope that you gained some useful tips to help at home.
Please find below the two presentations used. The first one explains how writing, and in particular the Big Write, is taught in schools and the second provides the tips and tricks of writing.
Many parents enquired at our Mindfulness presentation as to where they would be able to learn more about Mindfulness. The presenter, Anna Wille, gave us these suggestions: